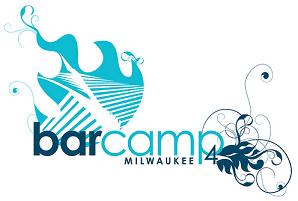 By luck I was in town during the BarcampMilwaukee "unconference." Participants created their own sessions. Topics included: Drupal, veganism, magic & technology, web security and the development of science fiction… Oh yeah, and there was a magnificent potluck.
I led a session called 'Brainstorming Brainstorming'. 15 of us collaborated and created How to Brainstorm.
I also got to meet Gabe Wollenburg and James Carlson. Gabe MCed the event and kept an electric joy in the air. James was another organizer of the event, and he's the inspirational force behind Bucketworks – "the world's first health club for the brain:"
It's a place and a methodology for directly connecting people to one another and to the wider world through their values and passions, so they transform their community. It's a local place with a global strategy, because if we build healthy localities, our whole world will grow. We focus on the individual first, because until someone understands their values and their passions, they're not likely to join in sharing interest in the wider world…

In the last five years our 700 members have created 28 new companies, 65 new jobs, a highschool, a student film festival, 7 theatre companies, 3 technology companies, and innumerable pieces of art, items for sale, performances, gatherings, shows, and events–there were over 863 events at Bucketworks in 2006.
I love meeting these people. =)
technorati tags: bcmke4, barcamp, milwaukee, conference, unconference, technology, event